2019年 02月 21日
バンコクといえばもちろんこのパーティーも。木曜と平日ですがみんなで思いきり盛り上がれたら!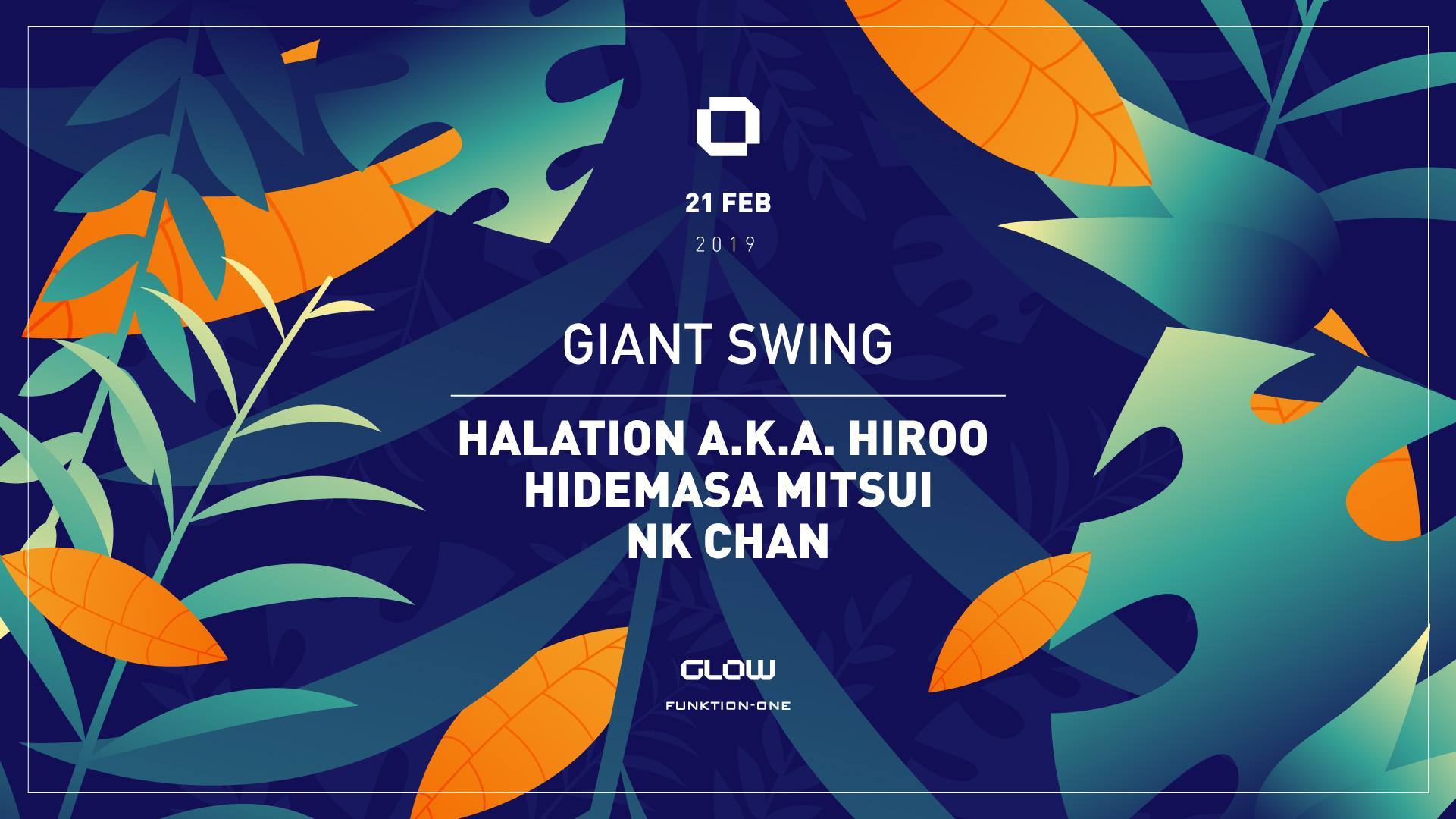 GIANT SWING @
GLOW
▶ Line up
HALATION a.k.a. HIROO
Hidemasa Mitsui
NK Chan
________________________________________
➜COVER CHARGE:
250 THB + 1 drink
➜DOORS:
9.30 PM -
3.00 AM
GLOW
Sukhumvit 23, Bangkok
glow@glowbkk.com
+668 6614 3355
________________________________________
HALATION a.k.a. HIROO (Giant Swing, JP)
Hiroo was born in Hokkaido, Japan's northern island that is renowned as a region of good music venues and lots of talented artists. Growing up there, he became deeply subsumed with a local community of music-lovers where Hardcore, Rap, Free Jazz, Folk & Blues collide with each other and explode. That early time affected him and his appreciation of music deeply.
In 2009 he moved to Bangkok, Thailand and started his own party: GIANT SWING. It is now one of Bangkok's longest-running underground parties, and has gone on to become responsible for establishing an enduring link between Japanese underground artists and Southeast Asia. Hiroo has also played at Bangkok's most influential Dubstep / Bass Music party: DUBWAY SESSIONS.
In 2012, he returned to Hokkaido and began a new party called HALATION. He frequently gets out and plays in big cities like Tokyo and Bangkok.
https://soundcloud.com/dj-hiroo
________________________________________
NK Chan (Giant Swing, JP)
NKchan the experienced Japanese disc jockey. He started his dj trip in 1994 in Japan and organized parties in Sapporo, the heart of the japanese house music. Based in bangkok since 2012, He has been organized "Giant Swing", the party that continues to grow in popularity. Mixing HOUSE, TECHNO, DISCO, AFRO, DUB, BOOGIE, all forms of quality music new and old regardless of genre seamlessly based on his broad musical knowledge and experience, DJ NKchan mesmerizes and surprises many fans with his supreme sets wherever he performs.
________________________________________
Hidemasa Mitsui(GAOLAO)
Hidemasa Mitsui(GAOLAO) (GIANT SWING/HIGH TIME) After moving from Japan to Bangkok in 2011, he connected with the Vacancy crew who all share a love of digging for records and good music. Continuing his love for parties and good times he co-founded the notorious HIGH TIME party specializing in SOUL, FUNK, TROPICAL, DISCO, AFRO, BOOGIE, BASS, DRUMS, COWBELLS, ETC, The best sleazy back soi disco vibes this side of both equators. He would be invited to various clubs and bars around Bangkok and played at Festi- vals as like WonderFruit 2016,WonderFruit 2017,paradise island festival 2017 etc... He also joined Giant Swing Crew which organizing party for 8 year in Bangkok.
Links
https://www.facebook.com/hidemasa.mitsui.5
MixCloud:
https://www.mixcloud.com/hidemasamitsui5/
Sound Cloud:
https://soundcloud.com/hidemasa-mitsui
Don't Freeze
Let's Swing!
★★★★★★
Disco/House/Techno/Dubstep/World Music/etc...
_____________________________________________________
Supported by TRAPS
★WEBSITE★   
http://www.trapsbkk.com/
★ONLINESHOP★
http://trapsbkk.ocnk.net/
★TWITTER★  
http://twitter.com/trapsbkk
★SHOP★
■Asiatique NightBazaar wearhouse 5
■Singapore Branch near Haji lane