2013年 05月 24日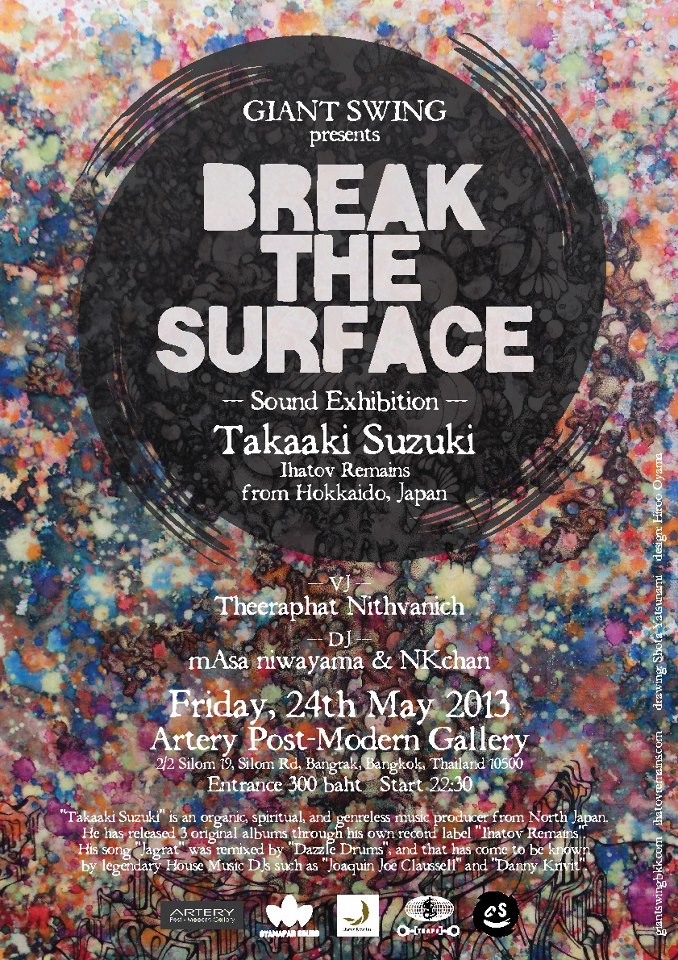 GIANT SWING presents
"BREAK THE SURFACE"
Friday, 24th May 2013
Start at 10:30pm til late
at Artery Post-Modern Gallery (Silom soi 19)
Entrance fee: 300B.
=====================
Sound Exhibition = Special Live Set by
Takaaki Suzuki (Ihatov Remains)
from Hokkaido, Japan
VJ:
Theeraphat Nithivanich
DJs:
mAsa niwayama
NKchan
Soundsystem: BREAKS Soundsystem
Drawing on flyer: Shota Yatsunami
Flyer design: Hiroo Oyama
=====================
Takaaki Suzuki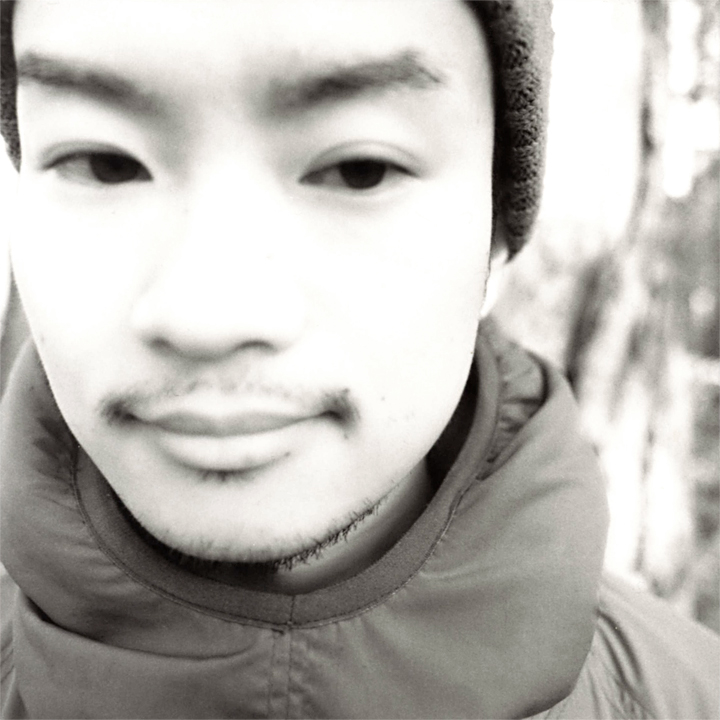 "Takaaki Suzuki" was born in Sapporo, Japan.
He is an organic, spiritual, and genreless music producer, also known as a record label owner.
At an early age, his parents encouraged him to play piano and other instruments.
Growing up, his musical tastes branched out and he became interested in hip-hop and electronic music.
He moved to the United States in 2002, hoping to find a dance music in underground New York City clubs.
During that time, he refocused his efforts in becoming a DJ, and producing an original music.
In 2008, he decided to start an independent record label "Ihatov Remains",
and released his first album "open the outdoors".
His second album, titled Starlight story, was released in 2009,
and "Dazzle Drums" did remix of his work "Jagrat" included in it.
It was released by "Green Parrot Recordings" and known by DJ's such as "Joaquin 'Joe' Claussell" and "Danny Krivit" later.
Also, his work "Elysion" and "Necromancer" were included on the compilation album "Emergence" released by "Synapse" in the same year.
In 2011, he released a debut album of "jealousguy" from his label "Ihatov Remains"
and it was first time to release an artist except for him.
By 2012, his remix works for "Naohito Uchiyama" and "Shinsuke Fujieda" were released by "UNDERTONE Recordings",
and his collaborated remix work with "Kumiko Hayashi" for "Olololop" was released as a vinyl record by "ROOM FULL OF RECORDS".
Also, some of his works were released by "OTOTOY" (for charity) and "GOLDEN AFTER".
In November of 2012, he released his third album "Aether Talk".
His career as an artist did not stop evolving,
and discovering new artist as the label owner.
He recently released EP of new artist "Film Forest".
-
.... Ihatov Remains 主宰。札幌在住の音楽家。
自然の鳴りや響きをモチーフに、
自由な発想で、音を編むストーリーテラー。
これまでに、1st アルバム「open the outdoors」、
2nd アルバム「Starlight story」と、2枚のアルバムをリリース。
2nd アルバム収録曲「Jagrat」は、
東京の人気ユニット Dazzle Drums によってリミックスされ、
2011年 [ GREEN PARROT RECORDINGS ] からリリース。
Danny Krivit 等にプレイされ、注目を集める。
他にも、[ SYNAPSE ] や [ GOLDEN AFTER ] 、
[ UNDERTONE RECORDINGS ] 、[ OTOTOY ] 、
[ROOM FULL OF RECORDS] 等から、
シングル曲、リミックス曲を、配信やCD、レコードなど、
幅広いフォーマットでリリースしている。
2012年、3rd アルバム「Aether Talk」をリリース。
http://www.ihatovremains.com
Theeraphat Nithivanich
Theeraphat was born in 1982 (Bangkok, Thailand). He personally works as Live Visual Artist. His work transforms footage, then create motion along with unique elements by using original footage and computer technique. Not long after, he began to design installation to work with visual media, creating unite of visual installation. In 2007, he started off working as VJ with Reset Group. Then had a chance to collaborate with Delicate Group, at that time was inviting various artist to join visual and sound experiment.
http://laicold.blogspot.jp
=====================
Artery Post-Modern Gallery / Silom soi 19
Tel: 089 607 3065
mail: arterybkk@hotmail.com
----------------------------------------------------
Supported by TRAPS
★WEBSITE★   
http://www.trapsbkk.com
★ONLINESHOP★
http://trapsbkk.ocnk.net
★TWITTER★  
http://twitter.com/trapsbkk
★SHOP★
■Terminal21 2F London floor
■ChatChak Market Section26 soi1
■Asiatique NightBazaar wearhouse 5
■Singapore Branch near Haji lane
----------------------------------------------------
More info.
masa.niwayama@gmail.com