2018年 06月 30日
6年ぶりにバンコクに行きます。GIANT SWING 8周年やります!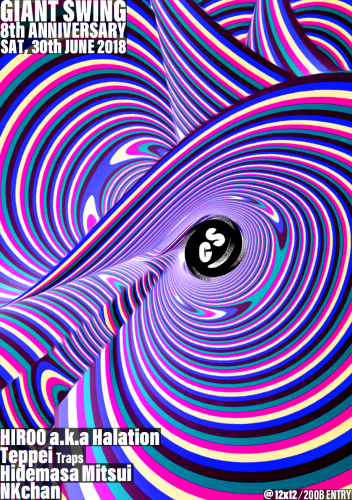 GIANT SWING is one of Bangkok's longest-running underground party. It became a movement throughout Asia and won the highest praise by the party people from all over the world as well as the people from the local music industry.
This month we are celebrating our 8th anniversary.
The founding member of GIANT SWING, HIROO a.k.a. HALATION is back for the first time in 6 years.
Plus current leading members NKchan, Hidemasa Mitsui, and Teppei (TRAPS) will also play at the party.
Please be there to share the moment of joy and pleasure!
-----------------------------------
GIANT SWING 8周年パーティを 6/30(土) に12x12にてやります!
北海道は函館から GIANT SWING 起ち上げ時のメンバーである HIROO a.k.a. HALATION が2周年パーティ以来の参加、6年ぶりの来泰!そして、いつもサポートしてくれているTRAPSの鉄平くんも参加♪ フライヤはQOTAROO氏がぐにゃ〜んとばっちり8周年デザインをしてくれました。
みんなで育て紡いできた8周年。祝モード全開でワイワイやりましょう!
皆さま是非ともお時間を空けておいてください。よろしくお願いいたします。
-----------------------------------
Saturday, 30th June 2018
【GIANT SWING 8th Anniversary Party】
▶ DJs ◀
HIROO a.k.a. HALATION
Teppei (TRAPS)
Hidemasa Mitsui
NKchan
▶ Venue ◀
20:00 - 2:00
200B Entry
Artwork by QOTAROO
Supported by TRAPS