2019年 02月 09日
HIBIYA LINEの名義でも知られるDanのクラブThe ObservatoryでDJします。
テト(ベトナム正月)期間ということで、街のムードも含めて楽しんできます!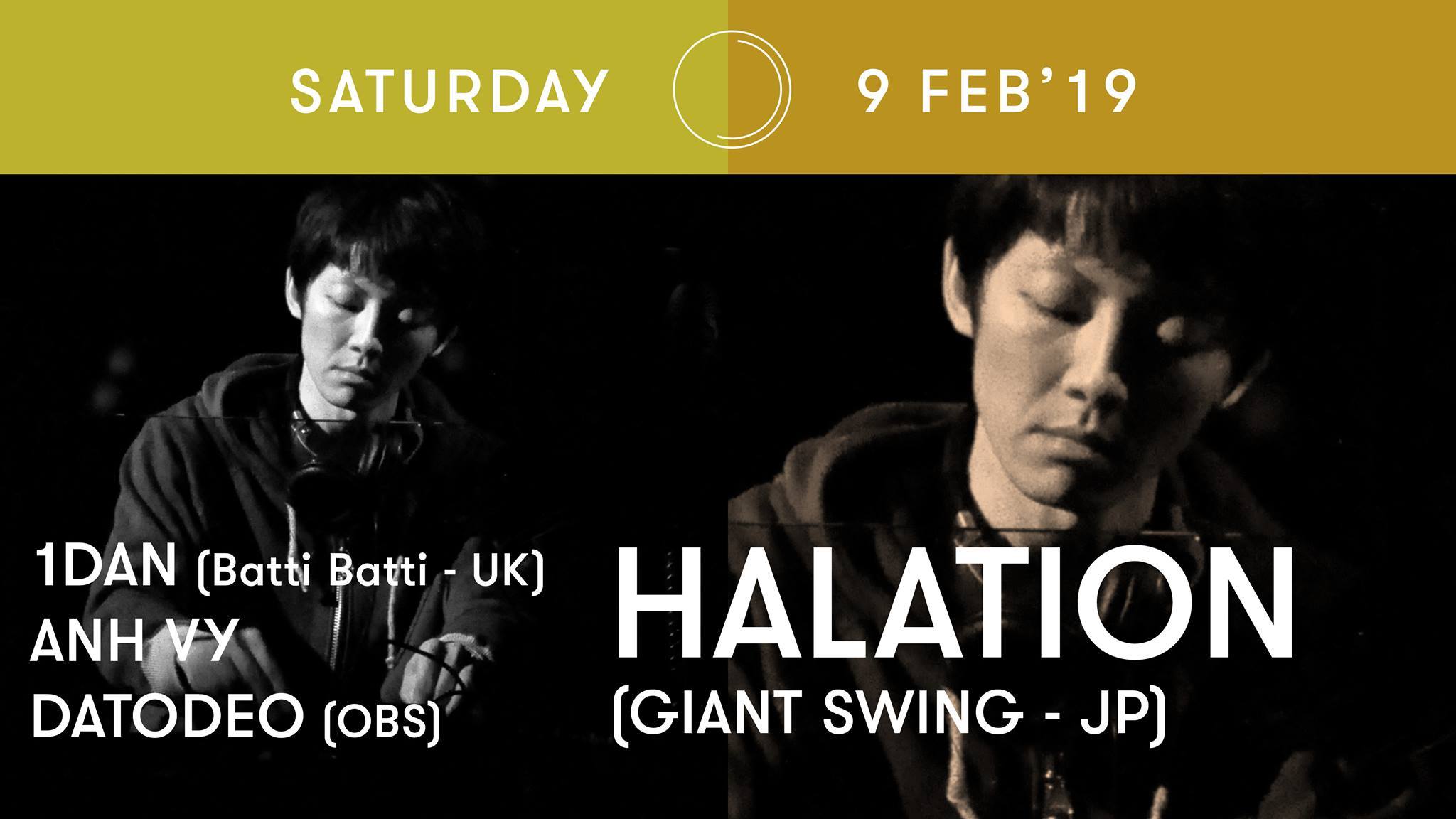 Line up:
Halation (Giant Swing – JP)
1DAN (Batti Batti - UK)
Anh Vy
Datodeo (Obs)
___________________________________________________________________________
A pioneer of the Southeast Asian underground electronic scene is back in the region to present the vision that formed the basis for bringing some of the first Japanese artists to Bangkok.
The Giant Swing parties started by Hiroo were taken on by figures like mAsa niwayama and NK Chan, and continued the solidify the link between the vibrant Japanese underground scene and Thailand, and ultimately Saigon too - without the links established through the Giant Swing parties, many of the Japanese artists that have played in our city might not have.
Hiroo's sound is a kaleidoscope of tripped out eclecticism, disregarding categorizations in almost every instance and allowing wide explorations of vast expanses of musical possibility. Jazz tracks can collide with hip hop, house and techno effortlessly and with continuous dance floor rhythm.
He'll be joined by another long-time Obs ally and formidable electronic creature 1Dan, rising young blood Anh Vy and resident groove machine Datodeo.
150K - free before 10PM
Event page
________
HALATION a.k.a. HIROO (Japan)
Hiroo was born in Hokkaido, Japan's northern island that is renowned as a region of good music venues and lots of talented artists. Growing up there, he became deeply subsumed with a localcommunity of music­lovers where Hardcore, Rap, Free Jazz,
Folk & Blues collide with each other and explode. That early time affected him and his appreciation of music deeply.
In 2009 he moved to Bangkok, Thailand and started his own party: GIANT SWING. It is now one of Bangkok's longest­running underground parties and has gone on to
become responsible for establishing an enduring link between
Japanese underground artists and Southeast Asia. Hiroo has also played as a resident DJ at Bangkok's most influential Dubstep / Bass Music party: DUBWAY SESSIONS.
In 2012, he returned to Hokkaido and began a new party called HALATION. He frequently gets out and plays in big cities like Tokyo and Bangkok.
HALATION hay còn được biết đến là HIROO (Nhật)
Hiroo sinh ra ở Hokkaido, hòn đảo phía bắc của Nhật Bản nổi tiếng là một khu vực của
những địa điểm âm nhạc hay và rất nhiều nghệ sĩ tài năng. Lớn lên ở đó, anh trở nên gắn bó sâu sắc với một cộng đồng những người yêu nhạc địa phương nơi Hardcore, Rap, Free Jazz, Folk & Blues va chạm với nhau và bùng nổ. Thời gian đầu đó đã ảnh hưởng đến anh và sự quan tâm sâu sắc của anh với âm nhạc.
Năm 2009, anh chuyển đến Bangkok, Thái Lan và bắt đầu bữa tiệc của riêng mình: GIANT SWING, bây giờ là một trong những bữa tiệc underground lâu đời nhất ở Bangkok, và đã tiếp tục chịu trách nhiệm thiết lập một mối liên kết lâu dài giữa các nghệ sĩ underground Nhật Bản và Đông Nam Á. Hiroo cũng đã chơi nhạc như một resident DJ tại bữa tiệc âm nhạc Dubstep / Bass có ảnh hưởng nhất của Bangkok: DUBWAY SESSIONS.
Năm 2012, anh trở lại Hokkaido và bắt đầu một bữa tiệc mới có tên HALATION. Anh thường xuyên đi ra khỏi Hokkaido và chơi nhạc ở các thành phố lớn như Tokyo và Bangkok
https://www.residentadvisor.net/dj/hiroo
https://soundcloud.com/dj-hiroo
______
1DAN
After many years of honing his sound and learning the craft, 1DAN's first release appeared in 2011 on respected UK underground deep house label; Atmospheric Existence Recordings. This was followed up by a rash of releases on the Maltese label Batti Batti with support from DJ's such as Jus-Ed, Huxley, Jay Tripwire, Fred P and many others.
Aside from solo studio work, collaborations with Bittersuite's Jon 'Griffin' Gray have resulted in a clutch of releases under their Tales Ov Rossi guise, returning to Atmospheric Existence Rec with the latest release marking the launch of UK label DeepSystems. Close working relationships continued with 1DAN remixing the latest Bittersuite track, These Thoughts for UK based outfit, Situationism.
When in the booth, 1DAN's hybrid DJ style moves from blistering techno to obscure deep house, providing listeners with unique selections that challenge the mind and feet.
https://soundcloud.com/1-dan
https://www.mixcloud.com/1DAN
https://www.residentadvisor.net/dj/1dan/
__________
DATODEO
A long-time record collector and connoisseur of jazz funk, disco, afro, reggae and other hidden rarities, Datodeo moved his vinyl to Vietnam from his native France and has since spent most of his spare time spinning around Saigon and the region. He also runs the Vietnam Loves Vinyl online community and worked on the Saigon SuperSound Compilation with Jan Hagenkoetter.
Datodeo's sets are rich explorations of hidden corners of the dance universe, from rare deep house cuts and lost disco and Afro gems to jazz funk movements and contemporary electronic twists. Party music at its purest and most complete, the sound he presents demands to be soaked in and danced to.
https://soundcloud.com/datodeo
________
ANH VY
Anh Vy is one of the youngest Djs in the Saigon underground scene. He's recognised by the versatility and flexibility in music. He was one of the resident DJs of fromer Upper Saigon. As time goes by, he making himself as an interesting and promising piece of Saigon underground scene as an arstist and a contributor with his very own uniqueness.
https://soundcloud.com/rvstofficial